A social and advocacy group for young adults rebuilding their lives after experiencing acquired, traumatic or other brain injuries.
Improving Connections
Our goal is to provide a safe, supportive and inviting environment for our members and their families as they navigate life with the challenges of brain injuries.
Is Brain Buddies Right For You?
If you are between the ages of 20 and 40 years old, living with a brain injury, and want to be part of an engaging group of young social individuals, the Brain Buddies organization may be right for you.
Learn about our fun, safe, and engaging group activities.
Our members are here to listen to your story, as we share our stories with you.
Expand your knowledge on TBIs, and how they impact an individual.
Insights & Experiences
Offering guidance to community members and their families living with brain injuries, while navigating the unknowns of re-entering the community.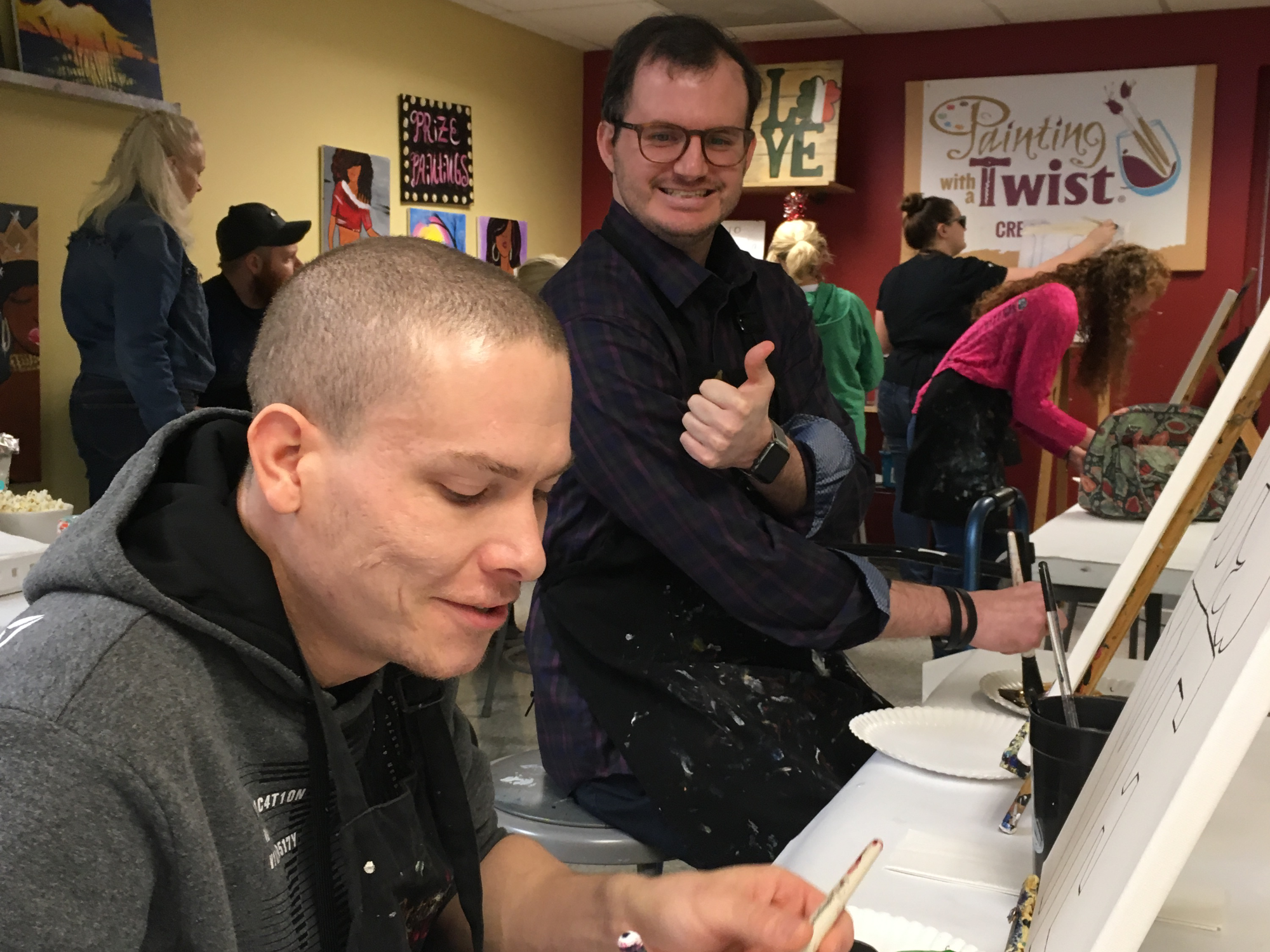 Reach Your Next Step
Our members share their stories of struggles and success through their journey of recovery.
"[Peer guiding] is very rewarding. It allows me to build trusting and lasting friendships that lets individuals with brain injury know they always have a person they can confide in."
"The theme song for Cheers sang "where everybody knows your name." At Brain Buddies we can't promise every one will always remember your name, but everyone is a friend that supports and makes you laugh anyway."
"Someone far wiser than I once said that it is better to light a candle, rather than curse the darkness. Complaining and wallowing won't get you far, only positive actions hold potential for progress."
Talk With Us
From group activities to individual, personal interactions, our peer guiding program can take many forms. If you would like to learn more, please provide your name and email below and we will be in contact.
**Peer guides are not licensed medical professionals and are not intended to replace medical advice.
About TBIs
Our goal is to educate the community on these injuries and how they impact an individual and the people around them.
Feel free to use these resources to gain additional insight into brain injuries.
Our Stories
To endure a TBI is life changing, but how impacted individuals overcome the impossible is beyond extrodinary.
Lindsey
Eight years ago, on one of my travels to Valencia, Spain I fell 6 stories down an open stairwell at a hostel. I landed on a marble floor, miraculously surviving. I landed on my feet, but hit my head on banisters on the way down breaking my fall, but giving myself a severe traumatic brain injury. I was flown home on a medivac flight, a month after my accident. I was still in a coma, as I was in a coma for 6-8 weeks. My accident occurred on March 17, 2013. After I came out of my coma I had to learn to eat, talk and walk again. 
I have come along way. Thank you and God bless you all. I have much to be thankful for, as I'm a survivor!
Julie
Thank God I knew that the extreme headache I was having was not normal. I called 911 to take me to the hospital where they found my brain aneurysm that was about to burst.
They saved my life!
Casey
I was living my life as a young man getting ready to manage my own Quik Trip store. But that ended without desire. Born with a heart condition that caused bronchitis, it changed me for the rest of my life. 
I was immediately rushed to the hospital with my dad right next to me. Two months later, I opened my eyes and came alive to a different life. 
Fast forward 6 years.  I'm blind in one eye and have limited vision in the other. But my heart is still beating. I live a happy life thanks to Jesus who is the best Father anyone could ask for. My health is great and I'm improving every day. Thank you God for everything you've done for me!
Dane
I survived. I survived a brain injury from an unwitnessed fall, even though I was not supposed to survive at all. My life has been hard work to regain functions, skills, and a semblance of my former life. I have found hope, healing and strength throughout my ordeal. The greatest aspect of my healing has been my unyielding support from my parents, brother and my friends. Keep working, it gets better.
Lauren
During a 2013 business trip to Los Angeles, Lauren, an avid runner, was struck by a car and critically injured during a morning run. Unidentified for several hours, she remained in critical condition for weeks, and because of severe traumatic brain injury (TBI), she had only a slim chance of survival. Doctors suspected that if she did survive, she would most likely not be able to feed herself, walk, talk or understand spoken words.
But Lauren is nothing if not determined.
Today, Lauren lives with her parents in O'Fallon, Missouri, and continues her recovery process. With a little help from her mom, Colleen, Lauren speaks publicly and often about her life in recovery from TBI. She is an inspiration to others, a role model for many, and perhaps most importantly, a strong and resolute survivor.
Featured On EMissourian – EMissourian.com
"The members of Brain Buddies, they want to live, they want to have a life," she said. "They have had enough of the speakers and medical appointments. They want to have fun just like any other young adult."
Help Our Mission
Contributions ensure that our members are not isolated and have access to transportation and social events. Your donations help our group grow and continue to improve connections.
Other Ways To Help
If you are looking to donate by check, or help Brain Buddies in a different way, or have questions, please feel free to contact us at info@brainbuddies-stl.com!